ENVIRONMENTAL ACTIVIST
I am grateful that my father was not only an amateur nature photographer but also a man who loved to take our family to national parks for summer vacations. We spent a lot of time in the great outdoors so it's no surprise that I have a deep reverence for planet earth. That relationship continues to this day and is one of the primary themes of my artwork.
GOLDEN TROUT WILDERNESS
In 1990, I embarked on a Sierra Club backpacking trip into the Golden Trout Wilderness in the southern Sierras. This became an inspired journey bringing me into close contact with natural cycles and spiritual experiences. As our group spiraled upward, day turned into night eight times and the moon rose to fullness. Early on the "golden trout" appeared as a symbol in my dreams. This luminous fish became a magical guide weaving its way through hills and valleys by day and stars at night.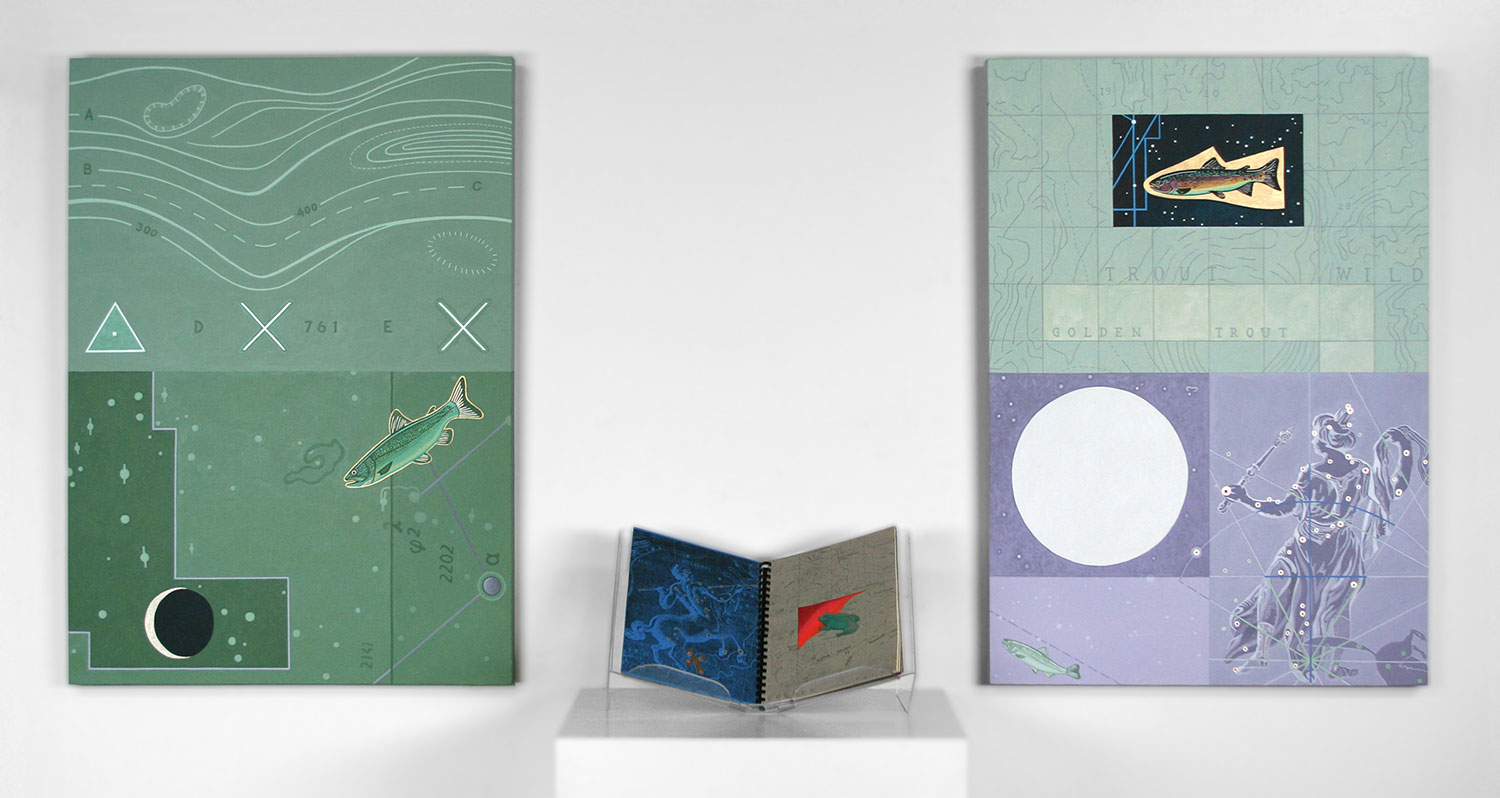 The above installation was included in the first ECOART exhibition organized by the SCWCA Eco-Art Collective in 2007. It took place at the Junior Arts Center Galley at Barnsdall Park in Los Angeles.
Paintings left and right: Golden Trout Wilderness Journey, 2007, acrylic and metallic paint on canvas, 42″ x 30″
The heavens and the earth seemed connected in one continuous stream filled with rushing water, crackling twigs, fresh bear tracks, frost crystals on my tent flap, story-telling, laughter, star gazing, freeze-dried dinners and howling coyotes. This experience was so extraordinary that I kept a journal during the trip to document my thoughts and feelings. On returning home, I created an artist's book filled with words, images, textures, colors and photographs that brought my mind, heart, body and spirit together within its covers.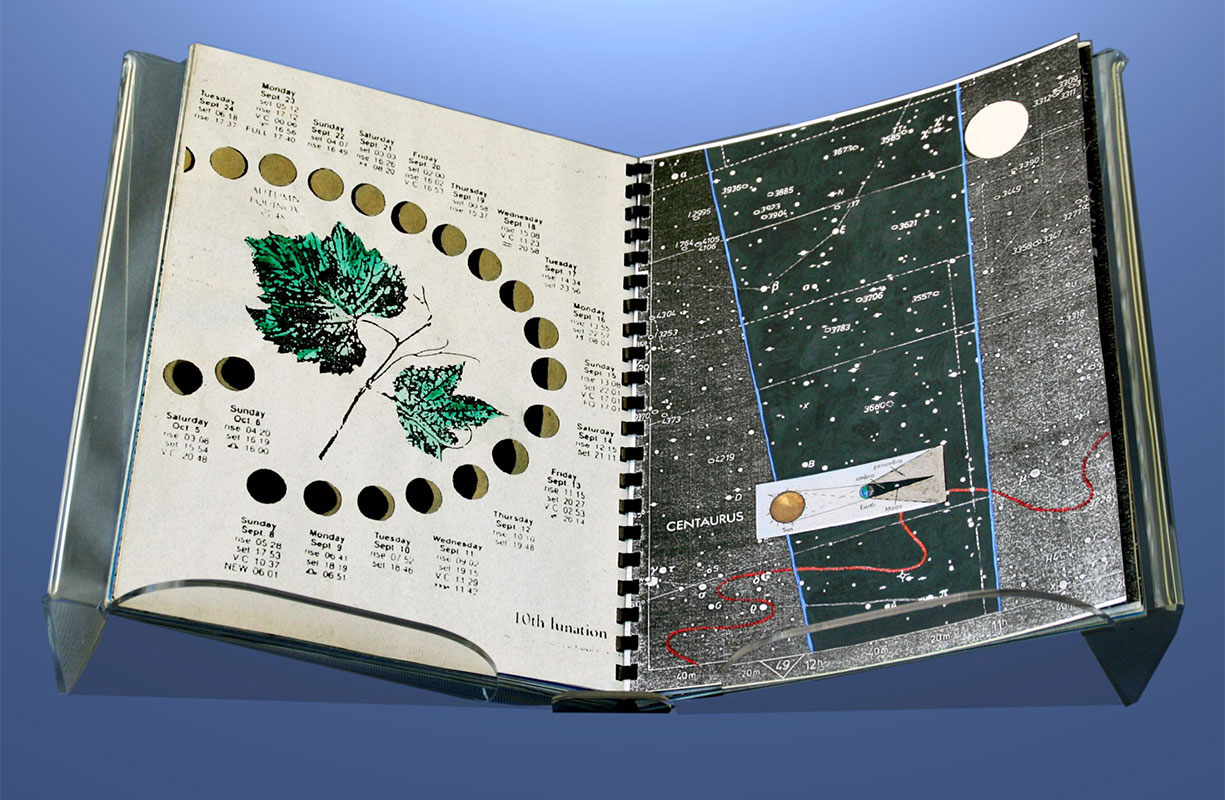 The Golden Trout Wilderness, 1991, handmade book with casein on printed pages, 12″ x 18.5″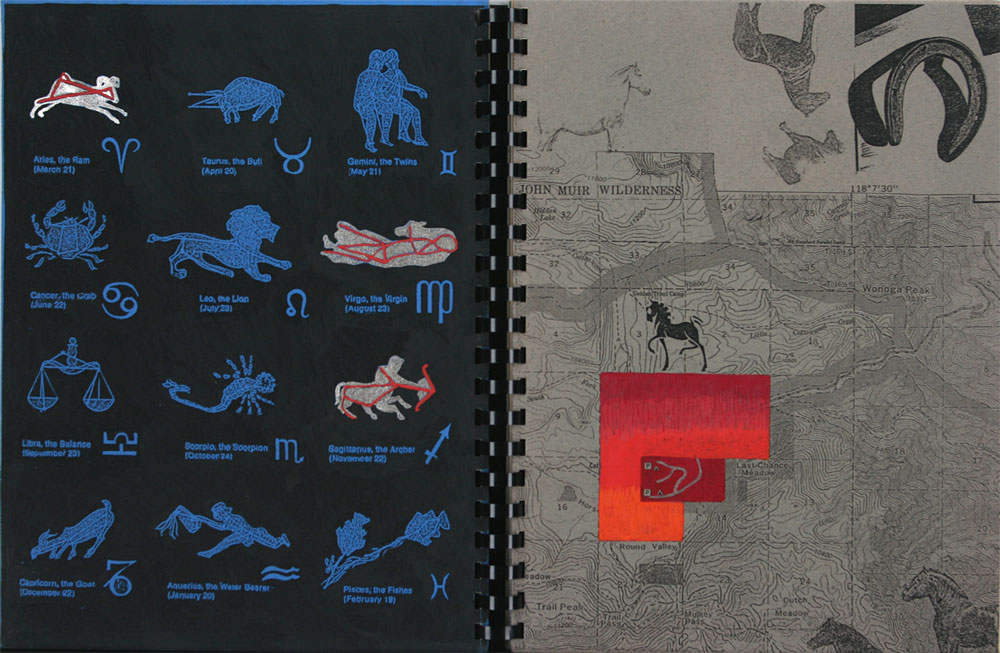 Horseshoe Meadow book spread, 1991, casein on printed pages: 12″ x 18.5″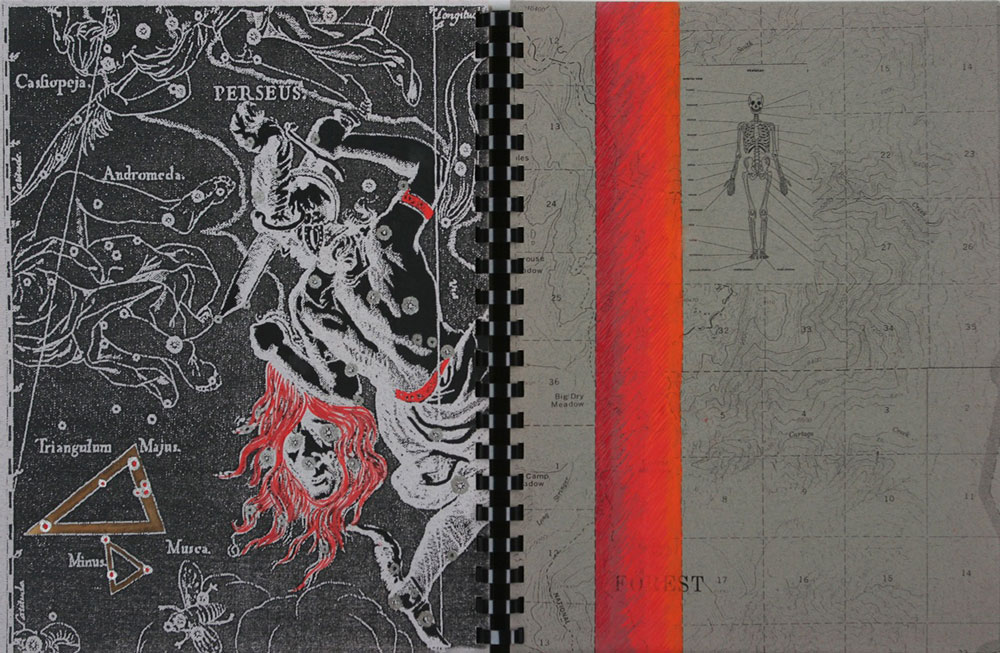 Death Canyon book spread, 1991, casein on printed pages: 12″ x 18.5″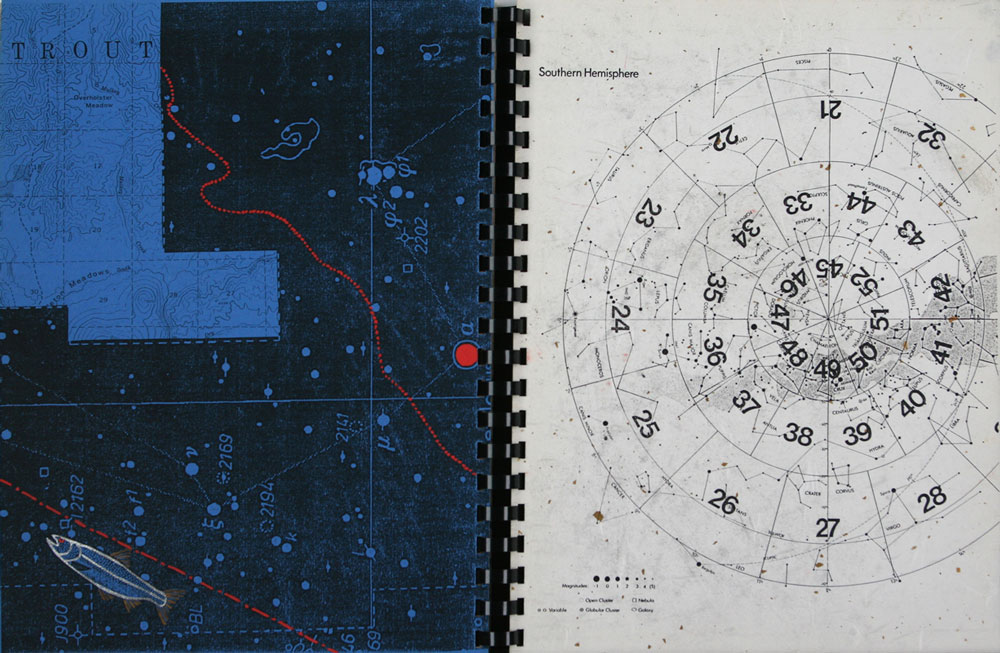 Golden Trout Wilderness map and Southern Hemisphere galaxy book spread, 1991, casein on printed pages, 12″ x 18.5″
WIND SPIRIT IN THE FOREST FLOOR
This painting was inspired by two childhood nature experiences in southwestern Ohio. One was walks with my father in Heuston Woods State Park and the other was visits to the earthworks at Fort Ancient, where a Native American culture had flourished.
This life-sized painting had been taking shape in my imagination for some time. I envisioned a forest floor protected by an indigenous wind spirit hanging in a central column of light. This was to be an image about balancing between two worlds – the natural and the supernatural. The mundane world would manifest as a forest ecosystem teaming with primordial life forms, an array of animals and a dancing layer of eucalyptus leaves stirred by the wind.
Wind Spirit in the Forest Floor, 1991, acrylic on canvas with attached plant mask and date palm frond, 79″ x 53″
The numinous world would be called forth by a mighty wind spirit emerging in a column of healing green light to issue a beneficent warning about the danger of disturbing the sacred ecological connections between forests, plants, animals, humans and the powerful forces of nature. The column operates as an Axis Mundi reminding us how important it is to protect the world's forests, which not only give off oxygen but also sequester carbon to help keep the temperature of the earth in balance. Unfortunately, we can already see how the denuding of our forests are causing the disruption of this process on our planet and damaging the lungs of the earth with fire.
In 2010, I was invited to participate in an exhibition titled Day of the Dead Planet. I decided to focus on the state of the world oceans and created an installation titled Protect the Oceans. It was a call to action featuring a framed votive painting of a feminine earth guardian floating above a Day of the Dead altar. She was calling on us to reduce, reuse and recycle what we consume, especially plastics, which are killing turtles, seabirds, seals, dolphins and whales.
My altar was covered with numerous plastic items, hypodermic needles, votive candles, two hand-painted sardine cans, glass beads, shells and a magenta glass vase that had a planet earth emerging from it. Front and center was an ominous skeleton mask.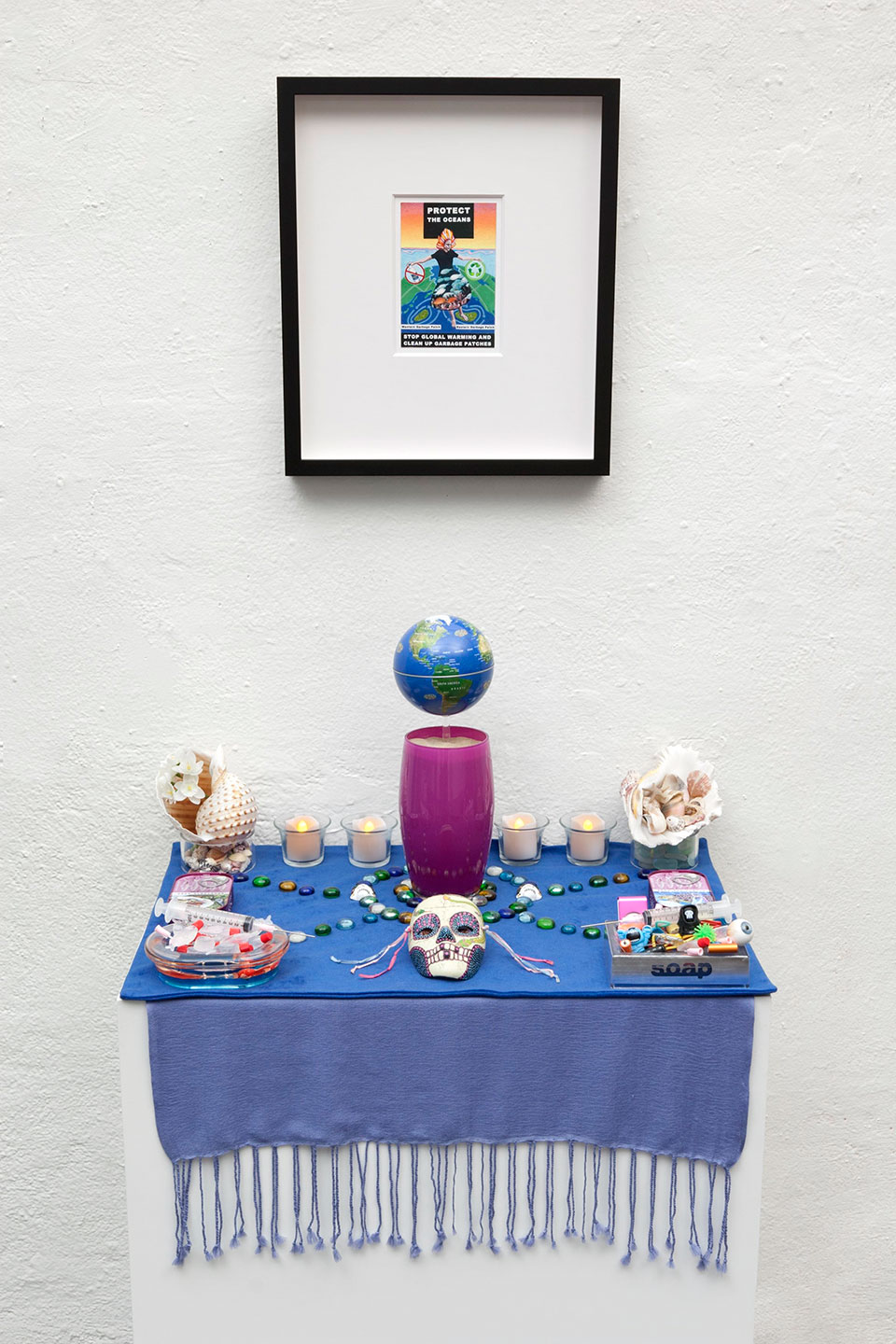 Protect the Oceans Votive Painting, 2010, acrylic on Bristol Board, internal image 6″ x 4″ (16″ x 13.75″ framed)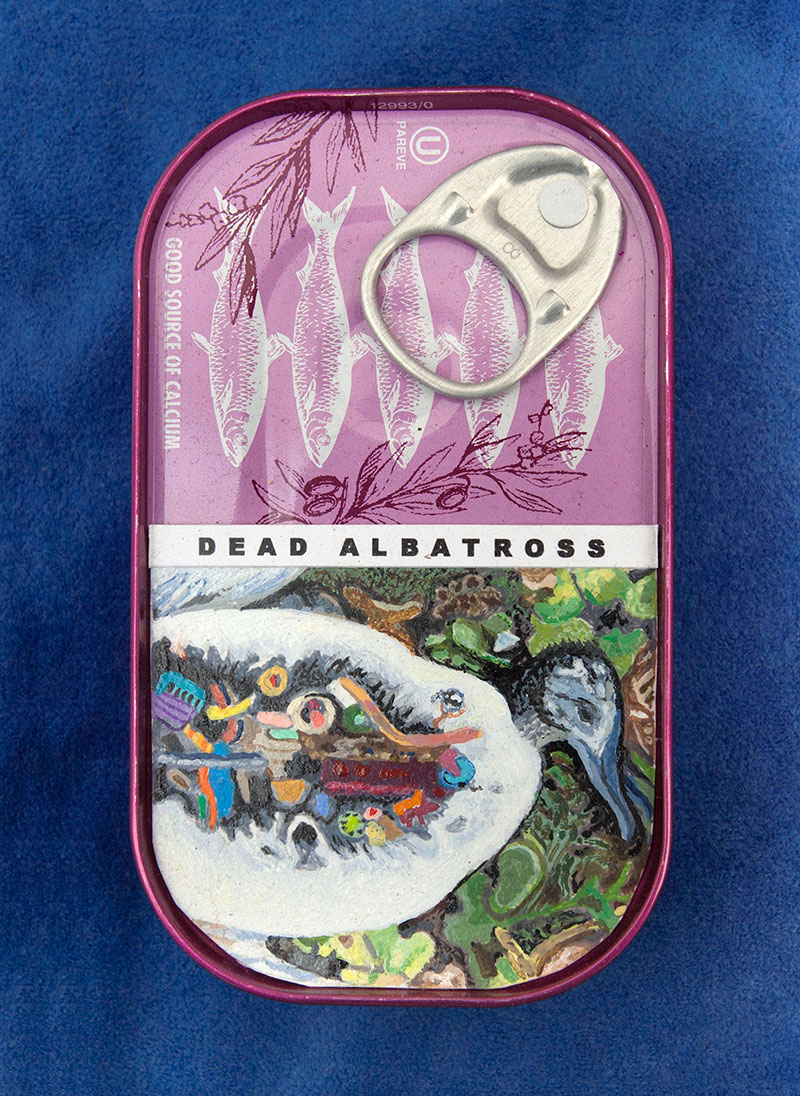 Hand painted Dead Albatross Sardine Can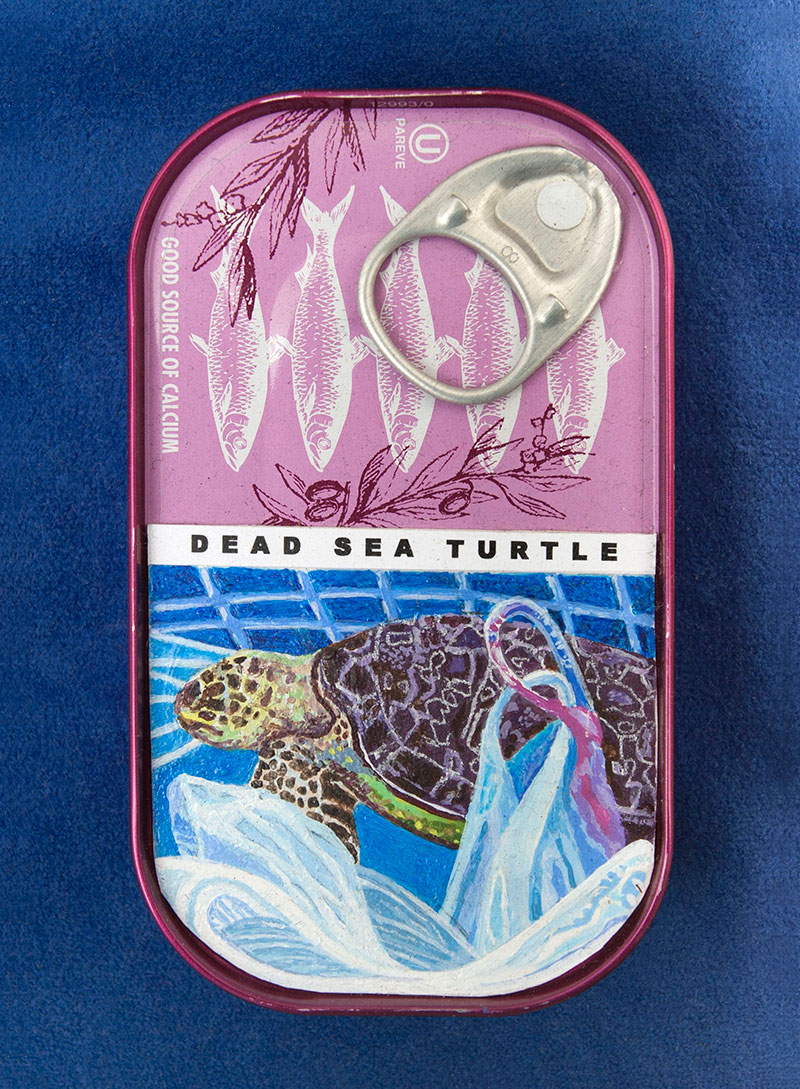 Hand painted Dead Sea Turtle Sardine Can
PLANET IN PERIL
This painting reflects my ongoing concern about the fate of planet earth. It's obvious by the red veins on the half sphere that it is heating up. The oceans are rising and the atmosphere is filled with greenhouse gases. Strange biomorphic forms float in the background. The blue green curtain at the top, which represents the world forests, reveals fires behind it.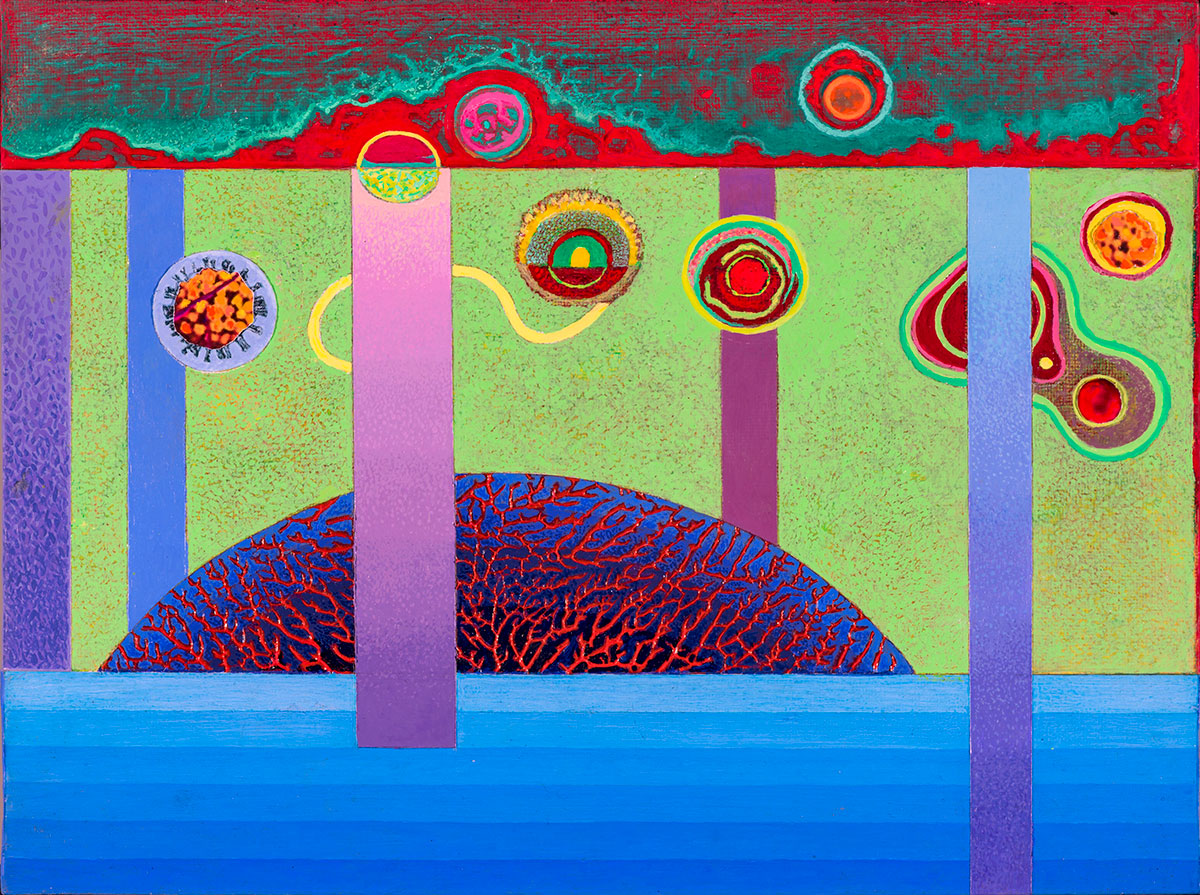 Planet in Peril, 2020, acrylic and paper on canvas board, 11″ x 14″
In 2007, a group of ecologically-oriented women artists came together to create the Eco-Art Collective of the Southern California Women's Caucus for Art. We realized we could make more progress by collaborating with each other than by working alone. We had regular meetings to share our artwork, discuss our concerns and organize exhibitions. This definitely heightened my interest in environmental issues.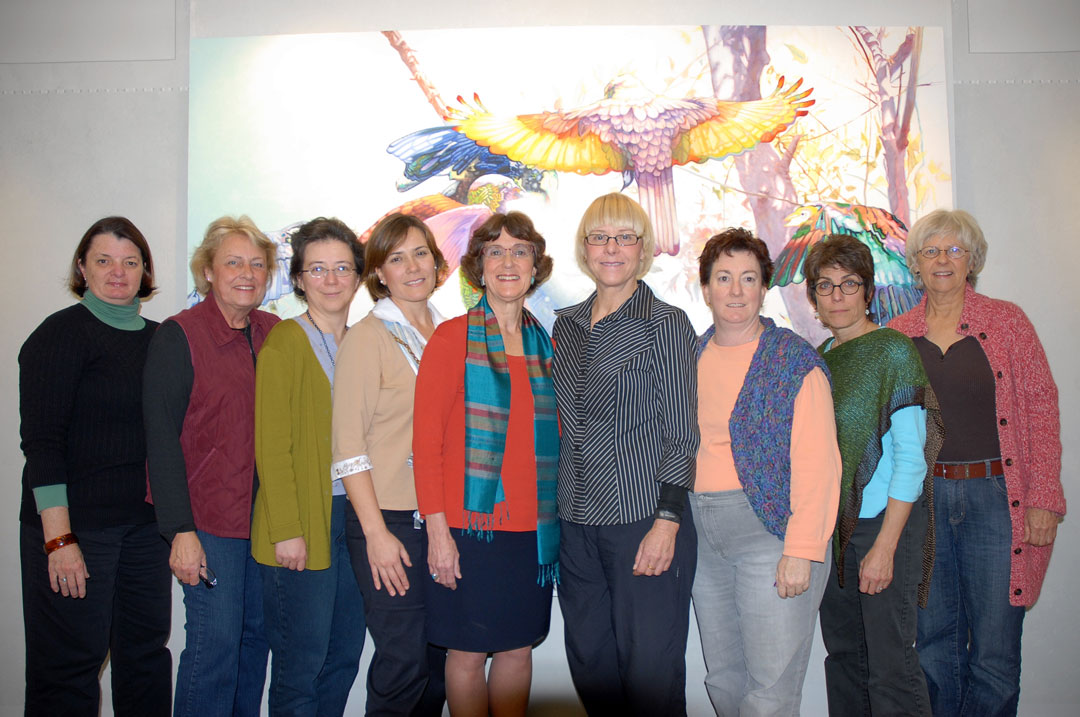 Eco-Art members: Deborah Thomas, Ulla Barr, Alexandra Isaievych, Gabriela Sincich, Ann Isolde, Linda Lundell, Julie Kornblum, Ruth Askren, Sandra Mueller
Together we mounted four exhibitions:
EcoArt Barnsdall Junior Arts Center in 2007
Wilderness Mind: Dissolving Duality at Angels Gate Cultural Center in 2012
Wilderness Mind: Activating Wonder at Modest Fly Art Studio Gallery in 2015
ECO ART: an exhibition at Golden West College in 2017